The Graff Pink is a rare 24.78 carat pink diamond. It is classified by the Gemological Institute of America (GIA) as having a "fancy intense pink" color (an excellent rating for a pink diamond) and has been deemed to be a Type IIa, placing it in the top 2% of the world's finest diamonds The Graff Pink has an emerald cut with rounded corners, and it is mounted on a platinum ring with two shield-shaped diamonds on either side.

Exactly where the rough diamond originated and by whom it was cut and polished is unclear. The diamond was once owned by famous American jeweler, Harry Winston. In the 1950's, he sold it to a private collector who owned it until November 16, 2010, when it was sold at auction by Sotheby's auctioneers Geneva, Switzerland. The diamond which was unnamed to that point, was shown around the world prior to the auction in Geneva to stir up publicity. It hadn't been seen on the open market for approximately 60 years.
The stone was expected to sell for a high price placing it on the list of the top ten most expensive diamonds in the world but after it sold to London jewelry dealer, Lawrence Graff, for $46 million dollars, it became known as the most expensive single jewel ever sold at auction. Despite its size, exceptional color, and purity, those attending the auction were astounded at the steep price the rare diamond brought in.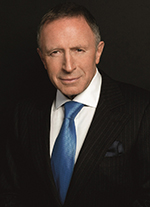 In a statement issued by Sotheby's, Lawrence Graff said, "It is the most fabulous diamond I've seen in my career."