In the mid 1860's, diamonds were discovered on the farm belonging to Nicolas and Diederick de Beer, near Kimberley, South Africa. In the beginning, two mines were dug. In 1888, from one of those mines came the octahedron-shaped diamond that bears the family name, De Beer(s).
The rough gemstone weighed 428.50 pre-1913 non-metric carats. After being cut, the pale yellow De Beers diamond became a cushion-cut diamond weighing 234.65 carats. It is considered the 7th largest faceted diamond in the world and the second largest faceted yellow diamond (if not considering the un-cut Oppenheimer diamond) and the largest cushion-cut yellow diamond in the world.
The De Beers diamond was purchased by the Maharajah of Patiala, after it was displayed at the Paris Exhibition of 1889. Patiala was a princely state in Punjab, in Northwest India.
In 1928, the Maharajah commissioned Cartier's of Paris to set the De Beers diamond, as the centrepiece of a ceremonial necklace that became known as the "Patiala Necklace," one of the most impressive pieces ever created. The necklace was anchored by the De Beers diamond that weighed 234.69 carats. There were seven other big diamonds ranging from 18 to 73 carats set into the necklace. The necklace also contained several Burmese Rubies and 2,930, diamonds of lesser size weighing about 962.25 carats.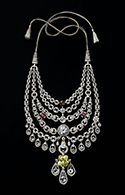 After the end of the Raj (India's British Colonization Period), at the time of India's independence in 1947, Patiala merged with India. During that turbulent period, the Patiala Necklace disappeared. It is conjectured that the royal family disposed of it fearing its confiscation by the Indian government.
In 1982, the De Beers diamond suddenly came up for auction at Sotheby's in Geneva. The necklace was not mentioned. At the event, the stone was bought by the top bidder for $3.16 million (below its undisclosed reserve price). Then in 1998, someone shopping at a second-hand jewelry shop in London came upon the remnants of the necklace. All of the big stones were gone including the seven stones ranging in size from 18 to 73 carats and, of course, the 234.69-carat De Beers Diamond. Cartier acquired the remains of the necklace and spent four years restoring it; recreating the original by replacing the missing diamonds with what is believed to be simulant stones such as yellow cubic zirconium and synthetic rubies.